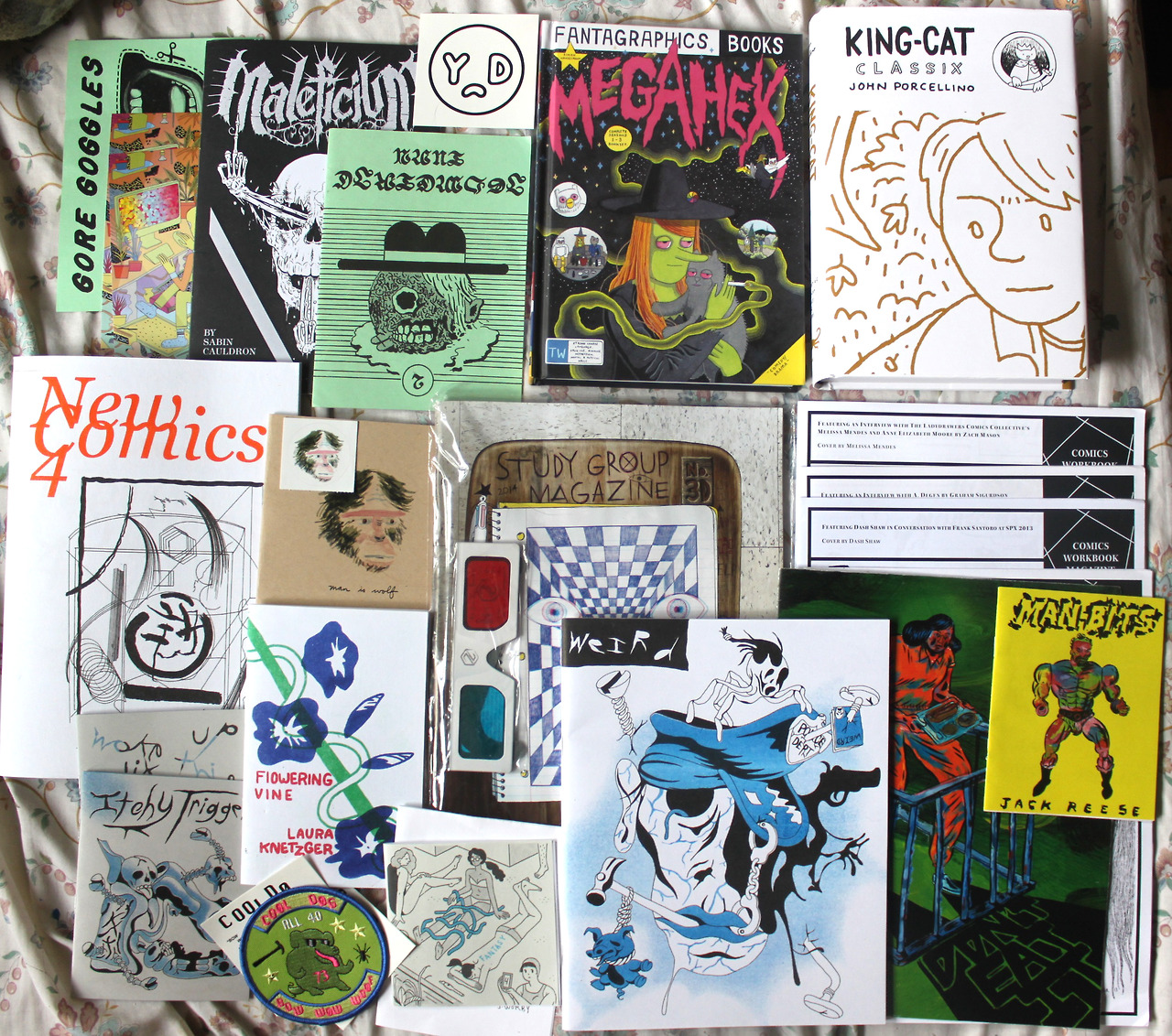 SPX 2014 Roundup!

Some books and zines and thangs I got this last weekend:

Maleficium by Sabin Cauldron (self-published), Isometric Tuna #2 by Shawn Eisenach (self-published), Megahex by Simon Hanselmann (Fantagraphics), King-Cat Classix by John Porcellino (Drawn & Quarterly), New Comics 4 by Patrick Kyle (self-published/Mothers Books), Emotional Distance 4: Man is Wolf by Zach Mason (self-published), Flowering Vine by Laura Knetzger (self-published), Woke up Lik This & Itchy Trigger by Mr. Freibert (self-published), COOL DOG stickers & patch by Mickey Z, Fantasy by Sophia Foster-Dimino (self-published), Study Group Magazine #3D edited by Zack Soto, WEIRD #5 edited by Mr. Freibert, Comics Workbook #s 2-5 edited by Zach Mason & Andrew White, Don't Eat it & Man-Bits by Jack Reese (self-published)

————————

Shout outs:

Shout out to G.W. Duncanson for giving me a ride to and from Baltimore & Bethesda, shout outs to Noel Freibert, Conor Steschulte, & Harris Smith for sharing their table spaces with me, shout outs to Zach Mason & his wife/partner Laura for letting me crash on their floor and scritch their cat and eat their food, shout out to Drew Miller for helping me carry my heavy ass box of books into and out of the venue and generally helping me keep my own sanity, shout out to sitting next to Ben Katchor and Charles Burns during the Ignatz Awards and overhearing all of their grumpy retorts throughout the entire ceremony, shout out to Cathy G. Johnson's thank you speech (*shout out to solidarity), shout out to Sam Alden's thank you speech, shout out to Paul Karasik for just existing, shout out to missing Simon Hanselmann's wedding ceremony because I really had to pee, shout out to $9 Coronas, shout out to Pho, and last but not least, shout out to everyone and anyone I met and spoke with for the first time, to anyone making or supporting kewl comix, and to anyone who bought (and or enjoyed) my books!!! Bethesda sucks!!!